Item Added
The [Manufacturer Device] is in your cart.
HTC Desire® 555
Rate Plans:
2 GB,
5 GB,
Unlimited 2,
Unlimited
Cricket accepts Visa, MasterCard, Discover, and American Express credit and debit cards.
For those who move to the beat of their own drum, the HTC Desire
®
555 is a perfect choice! The high definition 5" screen makes images pop with vibrant color and makes emails, documents, and text messages easy to read. The soft-to-the-touch, dual- tone design with textured grooves is easy to grip. Dual cameras make capturing beautiful pictures and selfies a snap and integrated settings and photo editing means they always come out looking great.
The Desire 555 has up to 16 GB of built-in memory (expandable up to 2 TB). Unlimited storage with Google Photos means there's plenty of room to store pics, videos, and documents. Expect high performance with a fast quad-core processor on Cricket's 4G LTE network. The slim and compact HTC Desire 555 can keep up with the demands of both work and play.
California residents:
see Proposition 65 warning
The
HTC Desire 555
prepaid smartphone offers:
Dynamic 5" HD display for brilliant images and easy readability
Dual 8 MP and 5 MP cameras for capturing vibrant pictures, selfies, and memories
Fast quad-core processing power and 4G LTE speed
HTC BoomSound® for superb audio quality while using a wired headset
Up to 16 GB internal memory expandable to 2 TB microSD card
HD Voice capability*
HTC Themes® and HTC BlinkFeed™ for device personalization
Features
Beautiful Pictures and Video
The 8 MP rear camera with LED flash and 5 MP front camera with Timer, Auto Selfie and Voice Commands make capturing beautiful pictures, selfies, and 720p HD video quick and easy. Video selfie and panorama settings enhance your shots. The photo editor lets you add your own twist to images.
Crystal Clear Communication
With HD Voice, your calls sound clearer, with less background noise and distortion. You can also browse message and use apps faster while on a voice call!*
*To experience Cricket HD Voice, both callers must have a compatible HD Voice capable smartphone and make the call over Cricket's LTE Network or a compatible network. Cricket's LTE coverage is not equivalent to its overall network coverage. HD Voice calls made on a compatible device and on the LTE network may not experience an HD Voice connection at times of network congestion. Other carriers' networks may interoperate with Cricket's LTE network to support an HD Voice call.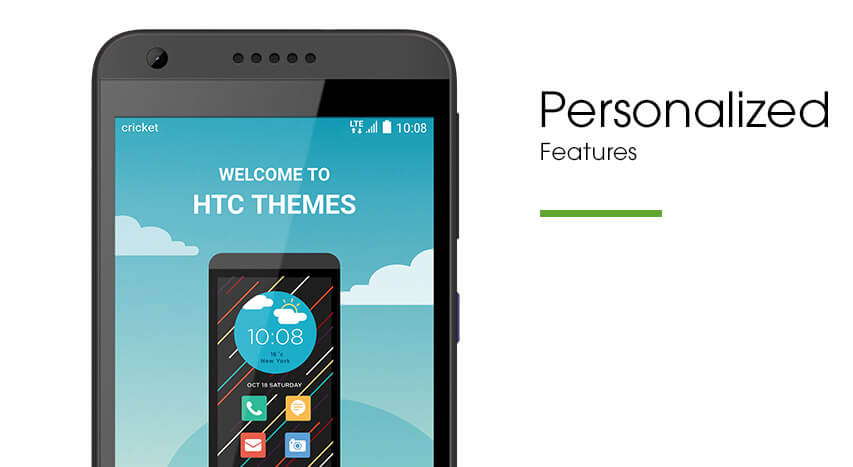 HTC Themes and HTC BlinkFeed™
The Desire 555 puts what you want and need right up front. Make it your own with HTC Themes to customize your phone to your style with unique wallpapers, sounds, and icons. Use HTC BlinkFeed™ to get the information you want and care about, updated regularly and easily accessible at just a swipe away.
Specifications
OS
Dimensions & Display
Dimensions
Display Size & Type
Memory
Up to 16 GB internal storage
microSD slot for up to 2 TB card
Connectivity
4G LTE compatible
Wi-Fi
Bluetooth 4.1
microUSB
Camera
Rear: 8 MP with 4x digital zoom and LED flash
Front: 5 MP
GPS/Maps
Google Maps turn-by-turn navigation

HD Voice capable
Processor/Battery
Hearing Aid Compatibility
Rated for hearing aids M4 and T4
Rate Plan Requirements
Qualifying monthly service plan required
HTC Desire 555
is rated out of
5
by
16
.
Rated

5

out of

5
by
rps2
from
good quality phone
bought phone 3 weeks ago. has the features i need. put on battery saving mode. found out battery not removeable. should not be a problem as i had a desire 510 that preformed very well for 4 years.
Date published: 2017-11-19
Rated

4

out of

5
by
Carl
from
Great Quality phone
This phone is like the other comments a decent phone. I must say, going from a Samsung galaxy 6 to this phone was a bit stomach turning at first but after sometime you really start to appreciate the quality of the phone. I can throw this phone 20 feet in the air and if it falls it won't break. The battery life I believe is much better than my Samsung galaxy 6, Internet is okay speed, lacks space but it is a decent amount for a modest person, The camera honestly sucks to me and is slow to start up the camera...Don't really like the HT C version software but one thing for sure, I had HT C years back and this is a HUGE improvement from the HT C phone I had with Sprint years ago. For $100 phone...this beats almost most competitors in that bracket ...Trust me..I've seen bad $100 phones..if it weren't for the poor camera quality and the lack of space this phone would easily be on it's way to catching tier two phones or even Galaxies
Date published: 2017-09-21
Rated

1

out of

5
by
Southgenie
from
Not as advertised
I've had Cricket and HTCs for a long time. My last phone upgrade was forced when they went to AT&T, at that time I had had the HTC One, which I loved but was happy to trade up for the larger screen. I decided to upgrade for a newer OS and bigger screen, and went with the new HTC 555 because the overall size is listed as 2.79' width, which is just a tad smaller than the Samsung Galaxy Halo. I was getting it because I have some new apps I wanted to use that I just wanted to see on a larger screen. But when I got it I found it's barely 2.5" width and about the same size as my old HTC 510. If the stupid Cricket store that used to be near me hadn't closed down I would have known that in advance. Save yourself the aggravation and just don't bother with this phone.
Date published: 2017-09-30
Rated

5

out of

5
by
Monie
from
It's a phone
Always liked HTC. this is a decent phone for $100+. Not super fast when it comes to the website and the keyboard sucks sometimes. But the batteryis great for me. It last me all day and then some if I chose not to charge it at night. Which is a plus.
Date published: 2017-08-30
Rated

4

out of

5
by
rooster39
from
Not bad for andriod
I bought this phone because my iPhone crapped out. It seemed to be similar in size so I picked this up and hasn't been bad at all.
Date published: 2017-11-14
Rated

2

out of

5
by
The Phonemower Man
from
It Does What It Needs To Do, Just A Little Worse
My previous phone was an iphone 5s which I had for almost 4 years. This HTC was released summer of 2017 and I purchased it fall of 2017. For being a brand new device, it is not good. Yes it is affordable but you can feel the money you saved just by touching the phone. Sound quality horrible, video quality horrible, touch interface is troubling. There is so much garbage pre-installed on this device that half of the users will never even need or use. So right out of the box you are getting a brand new already bogged-down device that feels and works as if it is 5 years outdated. I bumped this up from 1 star to 2 stars, because I believe if you simply need a device, then you can use this. But if you have any interest in being up-to-date with social media, video, smart phone technology, or society as a whole, this is not a good device.
Date published: 2017-11-29
Rated

1

out of

5
by
Nena
from
I wouldn't buy it if I were you
Poor performance, battery life is short, battery overheats when charging. I am an average user. I only charge the phone when it needs it and immediately remove the charger once the charge reaches 100% and I'm still having afore-mentioned issues.
Date published: 2017-08-15
Rated

3

out of

5
by
Niki
from
New phone for a new student
It seem to be better than the one I just got rid of. One thing, I can talk on it without it cutting off on me. I am still learning how to properly use it. I tcan say, I am advancing slowly but moving on.
Date published: 2017-10-23
Rated

5

out of

5
by
Mikey
from
a great balance of price and function
I really am impressed with this phone. It feels great in the hand, I consider this a nearly perfect form factor with a soft touch exterior. Also this phone is very light weight while still retaining some nice build quality. Audio quality on calls is good and loud. Reception is average - above average. The screen is bright and colorful for this price point. The camera takes okay pictures, better than I expected. This phone is nice for music listening with HTC boom, it's really an enjoyable listening experience. The HTC sense interface is a good addition to android and is pretty much out of the way and adds some nice features like flow and gestures. Battery life is average to slightly below average. However the small battery in this phone tops off quickly. I don't have any issues getting through a day and sometimes depending on use I make it into the next day. If you are the type of person who spends most of their time calling , texting, surfing the net and watching video then this phone will be perfect for you. The fall down would really be for high performance, video editing or gaming. However I suspect that kind of customer wouldn't even be considering this phone. Some knocks on the phone could be the microusb jack which is kind of dated. Also there is no inclusion of quick charge ( however the small battery really doesn't take very long to charge anyway ). For people into cameras there is no multi tonal flash.
Date published: 2018-01-02