Samsung Galaxy S9
Rate Plans:
2 GB,
5 GB,
Unlimited,
Unlimited Extra
Samsung helps you reimagine the ultimate smartphone with the Galaxy S9. It all starts with the edge-to-edge Infinity Display and stereo speakers, pro-tuned by AKG, that deliver an immersive surround sound entertainment experience. Add to that a state-of-the-art camera that captures 4K video and crisp pics even in low light. If that weren't enough, the S9 is water-resistant* so you worry less about those accidental splashes, spills and drops. And with the ease of Intelligent Scan, unlock your phone with just a glance. It's time that your phone goes beyond your imagination!
*Rinse off residue & dry after wet. See user manual for more details.
The
Galaxy S9 prepaid smartphone
offers:
Massive Quad HD+ Super AMOLED Infinity display and near bezel-less design
Fast octa-core processing power and 4G LTE speed
12 MP rear camera with dual-pixel technology and UHD video, 8 MP front camera
Pro-tuned stereo speakers with Dolby Atmos surround sound
Water-resistant in up to 5 feet of water for up to 30 minutes. IP68 certified.*
Up to 64 GB memory with support for up to a 400 GB microSD card
WiFi Calling Capable
Features
A Screen Without Limits
The Quad HD+ Super AMOLED display gives you cinematic detail with beautiful color contrast in the palm of your hand. This Infinity screen stretches from edge to edge, giving the most amount of screen in the least amount of space. And, with Intelligent Scan, both the Iris Scanner and Facial Recognition let you open your phone quickly and easily.
Incredible Pics and Videos
The Dual Aperture rear camera adjusts to let more light in when needed, capturing the right amount of light, day or night. This next generation camera also captures multiple photos at once and combines them into a single image to enhance clarity and capture the best possible photo. The Galaxy S9 also adds Bixby Vision. Just tap the Vision icon from the camera or Gallery. Bixby will serve up contextual icons: translation, QR code detection, landmark recognition and shopping links to give you a deeper understanding of what you are seeing.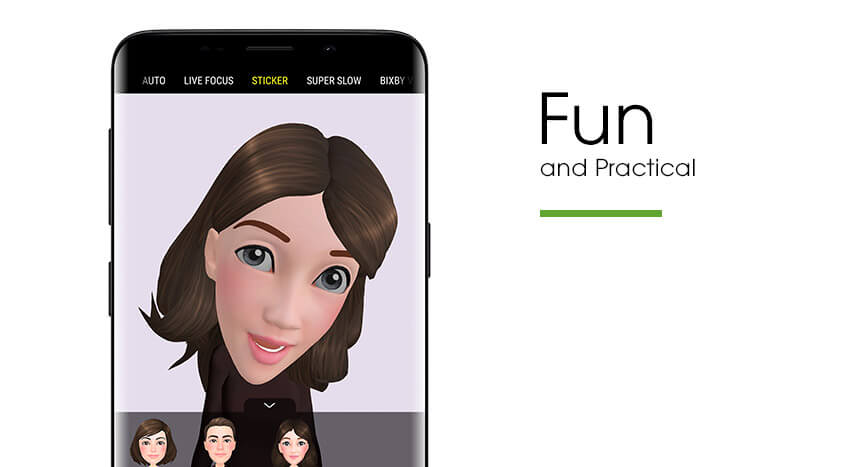 Less Worry, More Fun
With Augmented Reality, you can create an emoji library from your own picture. Personalize messages to your friends with emojis that look just like you. The S9 is also water resistant so it is protected from spills, splashes and even dunks. Just wipe off and keep on going.*